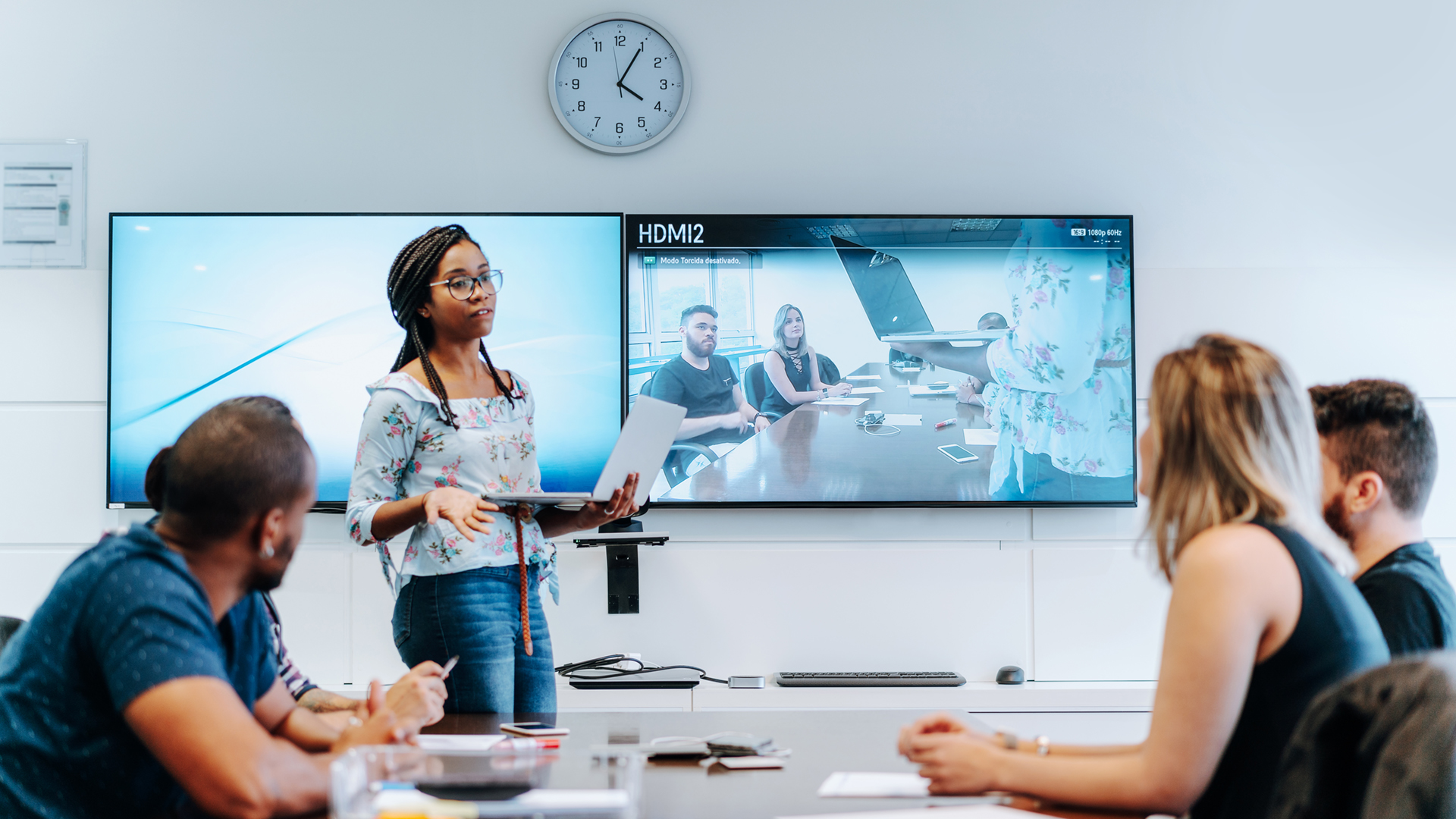 Re-connecting the modern workplace for the hybrid world
The shift to a hybrid work model will require the right technology now more than ever.
The pandemic has put how and where we work up for review. Prior to the pandemic, most employees worked in the office with only a small number of workers doing their job remotely. Now, the majority of companies are planning to adopt the hybrid model.
In the UK over half of all employed adults worked from home for part of the last 2 years and so it comes as no surprise that staff may be reluctant to embrace a wholesale return to the office. Surveys have found that 71% of employees want to continue working from home at least part time. Companies still want offices to play an important role in their workplace culture – many are debating how we attract staff back into the office?
In this workplace reboot, we've seen just what a vital role technology plays in all of our lives and the shift to hybrid work model will require the right technology now more than ever. With collaboration tools such as video now a daily feature in people's work patterns, using laptops and other devices wirelessly to connect to the corporate network is critical. Company executives are now looking at their office environments and thinking "how do we provide enough bandwidth securely, provide options for people to continue to work in a more flexible way and perhaps without a fixed desk?" Your office needs to be equipped for a hybrid workforce, to foster collaboration, communication, and engagement. And that starts with connectivity.
It all relies on user experience
The hybrid workplace in the post-covid world needs to put the employee purpose first. Creating a positive user experience will encourage staff to leave the comfort of their home and venture in to the office. Successful offices of the future may have more in common with retail or entertainment venues that compete for every visit by offering a compelling, constantly evolving experience. You wouldn't return to a restaurant where you had a poor experience, so why should an office be any different?
Maximising Networks
Fixed, permanent desks will be a thing of the past. When staff come in they will need to be able to work anywhere seamlessly. Many of us have been used to using our own home Wi-Fi, where we may be the only one connected to it. How will office connectivity compare?
In their recent blog, Cisco Meraki examined this need for wireless. "People going back to work will likely bring along more devices, placing extra strain on networks due to increased collaboration needs. Imagine an office building with 500 employees who want to collaborate seamlessly with remote workers. That means more cloud use, more video calls, and more chat applications."
Agile networks, not fragile networks
Ask yourself: "how can I enable my team to work remotely, but also securely?" Solutions like SD-WANS, which allow you to configure access to your network through different types of connections, using software and managing policy and security at the same time, are part of the new flexible, strongly connected future. Make working away from the office no big deal. Give employees a secure, optimised connection to your entire network from anywhere.
Connectivity everywhere
Throughout the pandemic, people working from home have relied on having good mobile coverage to keep in contact with their colleagues and customers more than ever. As the workforce moves to hybrid and employees look at re-occupying their offices, this mobile coverage will remain just as important. In an environment where work from anywhere happens, mobile connectivity is integral to engagement. They'll likely have their laptop and mobile phone – probably multiple mobile phones. They need to be able to enter the building and get to work.
Final thoughts
The pressure is on IT to enable a productive workforce at home or in the office without losing productivity. This requires seamless deployment and management of networking, security and collaboration tools.
Onnec are proudly 100% technology agnostic – bringing together "best in class" across multiple technology streams. It is our responsibility to advise which technologies are best placed now and in the future. As such, we are proud to be a Premium Partner of Cisco Meraki, who have long been at the forefront of innovation in terms of connectivity product and services. As the leader in cloud-managed networking, Meraki offers a powerful, peace-of-mind cloud-managed IT solution to transform the workplace.
The shift to a hybrid work model will require the right technology now more than ever.
Call or email Onnec to understand how a new connected environment will help your teams productivity, enable a supported return to the office and a flexible technology experience that they deserve.
---
About Onnec
Onnec are global integrators, specialising in providing end-to-end solutions for supporting today's ever-increasing business dependency on ICT. We provide design, installation and management services to some of the worlds largest banks, logistics, hyperscale cloud providers and digital natives and have delivered successful projects in more than 40 countries.
Whatever your challenge, we're ready to help you solve it with our digital workplace strategies. Speak to one of our specialists by emailing us at enquiries@onnec.com